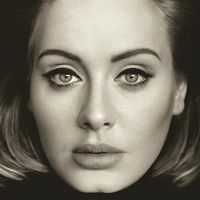 The positive note with 2010s ranking is that five letters are enough to resume the Top 4: Adele.
Hello benefits from having been the only 25 song available on Streaming platforms for long to crush all 21 hits. While time should give 25 sales a more linear distribution, this still shows how big of a follow up this has been.
It really takes a huge, huge hit to generate about 4 million album sales equivalent. It equals 40 million downloads or 6 billion streams. This is why songs up to such a figure or close are smashes as big as Love the Way You Lie, Thinking Out Loud or Shake It Off. Thus, Adele really belongs to a league of her own with an average over 10 million equivalent album sales for her four main hits.
2010S TRACKS
1 2015 Adele – Hello [25] – 15,730,000
2 2011 Adele – Rolling in the Deep [21] – 10,350,000
3 2011 Adele – Someone like You [21] – 8,650,000
4 2011 Adele – Set Fire to the Rain [21] – 6,560,000
5 2010 Eminem – Love the Way You Lie [Recovery] – 4,520,000
6 2014 Ed Sheeran – Thinking Out Loud [x] – 4,250,000
7 2014 Taylor Swift – Shake It Off [1989] – 3,890,000
8 2010 Maroon 5 – Moves Like Jagger [Hands All Over] – 3,860,000
9 2010 Bruno Mars – Just the Way You Are [Doo-Wop & Hooligans] – 3,730,000
10 2012 Bruno Mars – Locked Out Of Heaven [Unorthodox Jukebox] – 3,600,000
11 2011 Coldplay – Paradise [Mylo Xyloto] – 3,530,000
12 2015 Adele – When We Were Young [25] – 3,410,000
13 2011 Rihanna – We Found Love [Talk That Talk] – 3,290,000
14 2013 Katy Perry – Dark Horse [Prism] – 3,260,000
15 2011 Lady Gaga – Born This Way [Born This Way] – 3,080,000
16 2015 Justin Bieber – Sorry [Purpose] – 3,070,000
17 2012 Bruno Mars – When I Was Your Man [Unorthodox Jukebox] – 3,060,000
18 2012 Taylor Swift – We Are Never Ever Getting Back Together [Red] – 2,980,000
19 2014 Taylor Swift – Blank Space [1989] – 2,930,000
19 2010 Bruno Mars – Grenade [Doo-Wop & Hooligans] – 2,930,000
21 2013 Katy Perry – Roar [Prism] – 2,820,000
22 2012 Maroon 5 – Payphone [Overexposed] – 2,800,000
23 2012 Rihanna – Diamonds [Unapolegetic] – 2,780,000
24 2011 Adele – Turning Tables [21] – 2,770,000
24 2014 Bruno Mars – Uptown Funk [Orphan] – 2,770,000
26 2014 Maroon 5 – Sugar [V] – 2,760,000
26 2010 Katy Perry – Firework [Teenage Dream] – 2,760,000
28 2010 Justin Bieber – Baby [My World / My World 2.0] – 2,740,000
29 2014 Coldplay – A Sky Full of Stars [Ghost Stories] – 2,730,000
30 2015 Justin Bieber – What Do You Mean? [Purpose] – 2,720,000
Pages:
Page

1
,
Page

2
,
Page

3
,
Page

4
,
Page

5
,
Page

6
,
Page

7
,
Page

8
,
Page

9
,
Page

10
,
Page

11
,
Page

12
,
Page

13
,
Page

14
,
Page

15
,
Page

16
,
Page

17
,
Page

18
,
Page

19
,
Page

20
,
Page

21
,
Page

22
,
Page

23
,
Page

24
,
Page

25
,
Page

26
,
Page

27
,
Page

28
,
Page

29
,
Page

30
,
Page

31
,
Page

32
,
Page

33
,
Page

34
,
Page

35
,
Page

36
,
Page

37
,
Page

38
,
Page

39
,
Page

40
,
Page

41
,
Page

42
,
Page

43
,
Page

44
,
Page

45
,
Page

46
,
Page

47
,
Page

48
,
Page

49
,
Page

50
,
Page

51