METALLICA CAREER CSPC RESULTS
So, after checking all figures, what's the most successful album by Metallica and how many overall equivalent albums sales have they achieved? Well, at this point we barely need to do the addition of all figures defined all over this article!
In the following table, all categories display figures that way, e.g. in equivalent album sales.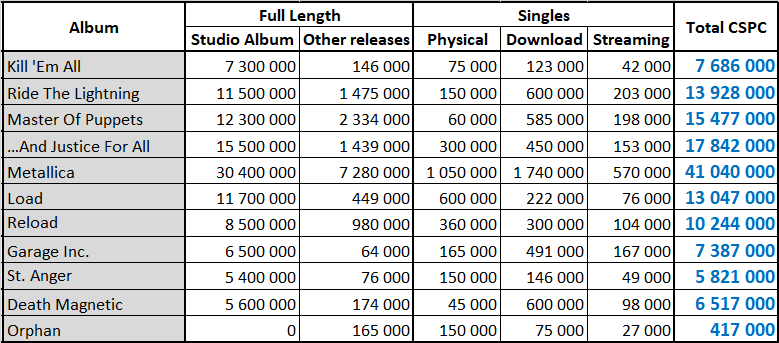 As a reminder:
Studio Album: sales of the original album
Other Releases: sales of compilations generated thanks to the album
Physical Singles: sales of physical singles from the album (ratio 3/10)
Download Singles: sales of digital singles from the album (ratio 1,5/10)
Streaming: equivalent album sales of all the album tracks (ratio 1/1500)
As expected, we have a clear winner here, and what a winner! Metallica's self-titled album is at 41 million CSPC's sales worldwide, a figure it attained at some point in the past year.
All three pre-Metallica albums, Ride The Lightning, Master Of Puppets and …And Justice For All generated each from 2 to 3 million equivalent album sales outside of the original albums, thus boosting their respective totals to 13,9 million, 15,5 million and 17,8 million.
Reload, whilst not massive catalogue seller like other titles, crosses the 10 million mark with its extra sales coming from the physical singles, digital downloads, streaming and other full length releases. Their last two albums, St. Anger and Death Magnetic, only registered some marginal additional sales.
Overall, Metallica achieved 139,4 million CSPC's sales, a truly massive total that let the band make it quite high on any all time list. But how high? You will have to keep reading Chartmasters, so stay tuned. For the time being, I hope you enjoyed this analysis.
Do not forget to check our amazing lists posted inside the CSPC: Data Collector which includes the full listing of all CSPC results compiled so far to better gauge their position in the history of the music industry.
As usual, feel free to comment and / or ask a question!
Sources: IFPI, Spotify, Chartmasters.org.