Full Length Migration Part 2 – Music videos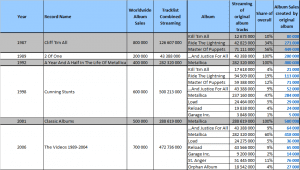 We have 6 music videos this time, 3 of which generated sales from only one album –2 Of One from Master Of Puppets, and both A Year And A Half In The Life Of Metallica and Classic Albums from Metallica-.
Cliff 'Em All, Cunning Stunts and The Videos 1989-2004 all garnered fascinating sales. From those two packages, Metallica gets the biggest share. Load and Reload haven't generated that much due to the comparatively lower appeal of their tracks as catalog items.