Full Length related records Sales
Despite not putting a compilation on the stores, Metallica did release a string of live albums and, especially, music videos in various formats. This is another source of sales for their original studio material which we are going to look at.
Full Length Migration Part 1 – Three live albums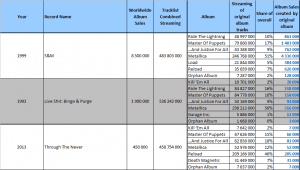 If you read carefully, you will notice how it works. S&M, for example, sold 1 million copies in its multiple formats and combinations released. All versions of its tracklisting achieved nearly 483 million streams on the Spotify platform, spread across 6 studio albums and a bunch of Orphan tracks. With each one receiving a share of its worldwide sales, we see the clear trend: Metallica comes on top, with also Ride The Lightning and Master Of Puppets adding quite a lot of sales too, thanks to its biggest tracks.
Same pattern applies to Live Shit and Through The Never.