Streaming Part 5 – Their last album to date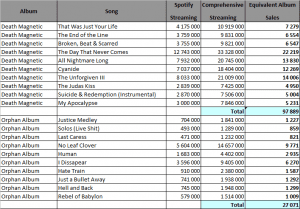 We end this streaming analysis with their last studio album released to date, with almost 100,000 equivalent sales. It was technically released in the Spotify era but that in itself doesn't mean much as streaming was an irrelevant part of the music business at the time and only started to be significant when the initial run for Death Magnetic was done. Its relatively small figures prove it isn't really a fan favorite as of today.
One would have expected I Disappear to be their biggest Orphan song, but it turns out to be No Leaf Clover, first included on their big S&M live album.