Streaming Part 4 – End and beginning of the century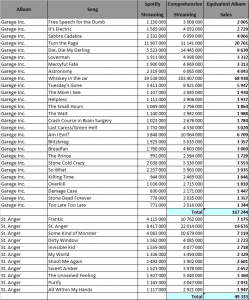 We start this Part 4 with a surprisingly high total for Garage Inc., their compilation of classic cover songs, most of them naturally related to their hard rock/heavy metal roots. A total of 167,000 equivalent albums sales largely driven by their Whiskey In The Jar cover, which accumulated almost 40 million streams via Spotify.
St. Anger is generally regarded as their least successful album, so it not hitting 50,000 as far as equivalent sales are concerned comes as no real surprise. All of its songs are still above the million total on Spotify.