Streaming Sales
Below table lists Spotify streaming of all songs from the albums we are studying. The Comprehensive Streaming is reached by multiplying Spotify figures by 68/26. In fact, as shown in IFPI 2015 Report, there were 68 million paying subscribers to all streaming platforms by the end of 2015. While the exact count of Spotify paying subscribers by the end of 2015 is unknown, that figure reached 20 million in June 2015 and 30 million in March 2016, thus an estimated 26 million is used as of the end of 2015.
The equivalent album sales is the division of the comprehensive streaming figure by 1500 as it is now the norm in the new industry model.
Streaming Part 1 – Early albums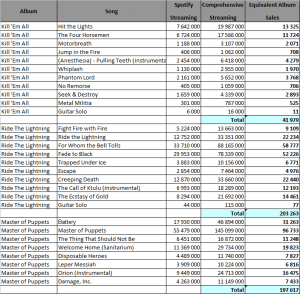 It is with Ride The Lightning and Master Of Puppets where we start to see some actions, both records boosted by some of their first big songs, notably For Whom The Bell Tolls and, of course, the track Master Of Puppets, which gave their third album a title. About 200,000 equivalent albums sold each via streaming according to our CSPC's approach, two huge totals considering the biggest part of the career is yet to come.
On the other hand, their debut Kill 'Em All lacks a proper hit singles on its own, unlike the two other albums covered above.