Streaming Sales
Below table lists Spotify streaming of all songs from the five albums we are studying. The Comprehensive Streaming is reached by multiplying Spotify figures by 68/26. In fact, as shown in IFPI 2015 Report, there were 68 million paying subscribers to all streaming platforms by the end of 2015. While the exact count of Spotify paying subscribers by the end of 2015 is unknown, that figure reached 20 million in June 2015 and 30 million in March 2016, thus an estimated 26 million is used as of the end of 2015.
The equivalent album sales is the division of the comprehensive streaming figure by 1500 as it is now the norm in the new industry model.
Streaming Part 1 – Immaculate Years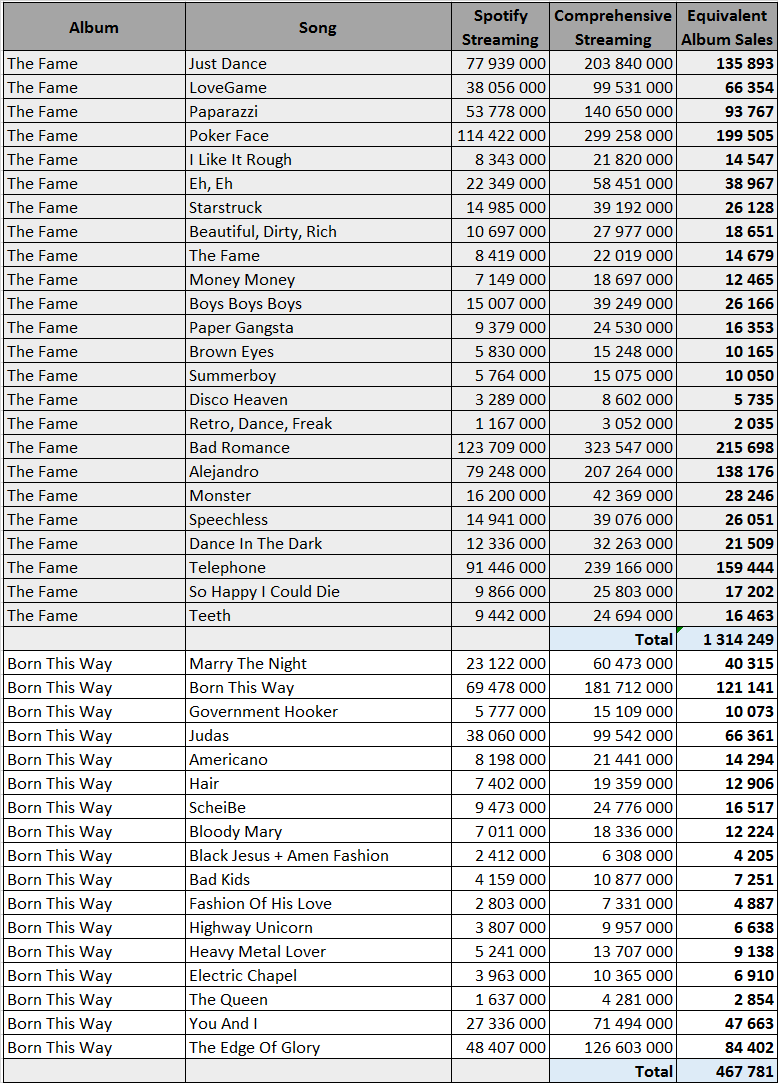 Considering how many years later Streaming exploded, it is pretty insane to see Alejandro barely #5  biggest song from The Fame in spite of a massive 79 million plays. With as many as 14 songs over 10 million and all songs issued as singles over 38 million, it is no surprise to see the album total album sales equivalent generated by streaming at more than 1,3 million.
Born This Way songs are undoubtedly on a lower scale but five songs over 23 million is nothing to be ashamed of. In total, the record is up to 468,000 album sales equivalent.