Streaming Sales
The below table lists Spotify streaming of all songs from the five albums we are studying. The Comprehensive Streaming is reached by multiplying Spotify figures by 68/26. In fact, as shown in the IFPI 2015 Report, there were 68 million paying subscribers to all streaming platforms by the end of 2015. While the exact count of Spotify paying subscribers by the end of 2015 is unknown, that figure reached 20 million in June 2015 and 30 million in March 2016, thus an estimated 26 million is used as of the end of 2015.
The equivalent album sales is the division of the comprehensive streaming figure by 1500 as is now the norm in the new industry model.
Streaming Part 1 – Global Rise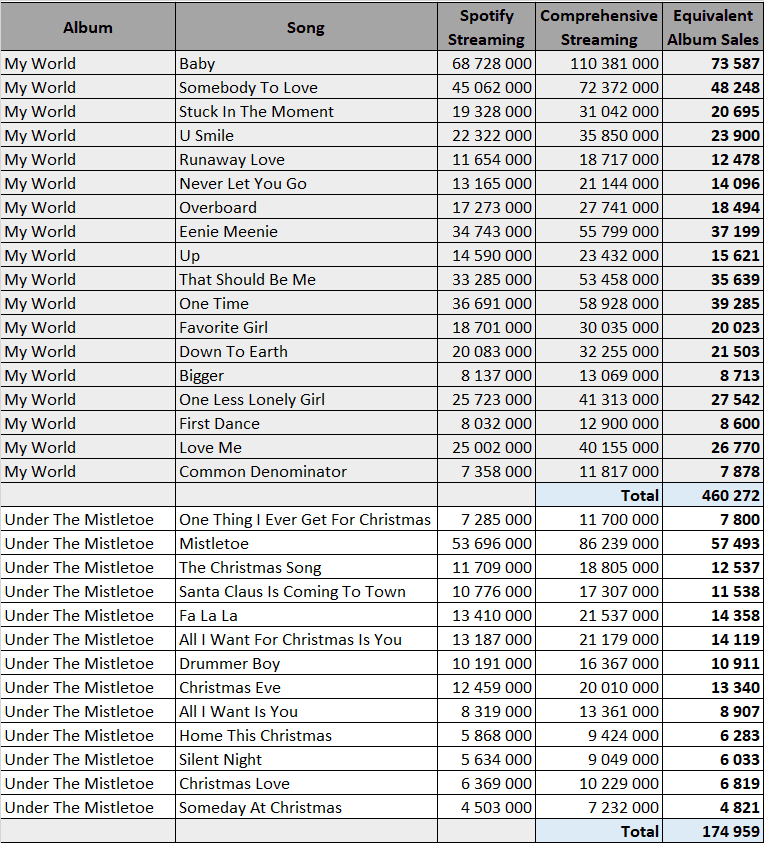 Interestingly, streaming results of Justin Bieber are on par with his album sales and his download singles sales, e.g. impressively spread over all his catalog rather than on a few hits. As a result, while one may expect Baby to be far ahead of the other songs from the My World album, the ratio with the album's weakest track is less than 10 to 1, a fairly low gap. As many as 15 of its tracks top the 10 million limit, even more impressive considering this set was released way before the streaming boom. Thus, My World's streaming equals to a pretty high 460,000 equivalent album sales.
Similarly on a lower scale, Under The Mistletoe's figures are quite good with all tracks over the 4,5 million mark. The leading hit Mistletoe is on 53,7 million. This is likely to match Baby during next Christmas.