Full Length Migration Part 2 – Compilations and the likes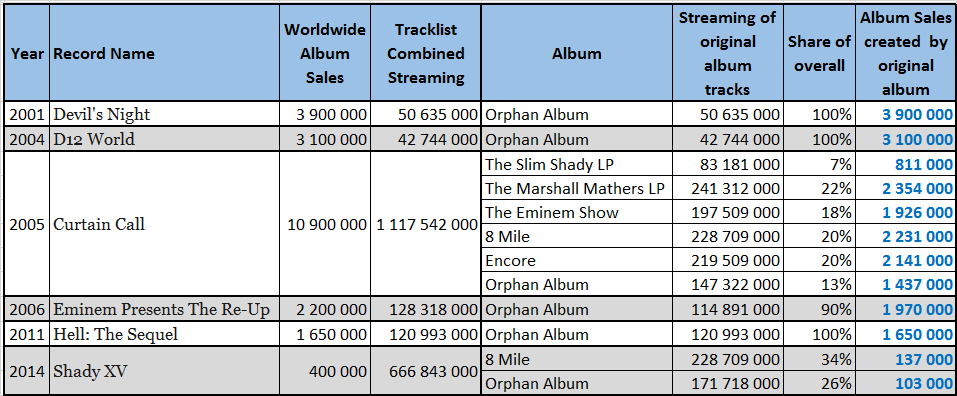 Here comes a pretty weird but incredibly interesting list. The first two albums are the couple of studio albums Eminem released with his D12 partners. I'm adding them inside his Orphan Album as while they can't be considered among Eminem own list of studio albums, we can't ignore his preponderant contribution. Exactly the same situation happens with Hell: The Sequel, the album he released under the duet Bad Meets Evil consisting of him and Royce da 5'9″.
Eminem Presents The Re-Up is a bit in-between as it involves both Eminem tracks and tracks of other label collaborators but without Eminem. Thus, the artist gets 90% of the album sales inside his Orphan Album as the songs on which he is part amass 90% of the album total streams. This perfectly highlights Eminem outstanding power as his 9 tracks add for 114,9 million streams while the remaining 14 tracks without him total barely 13,4 million combined.
Shady XV is an other weird release as it is a label-axed greatest hits rather than an artist-axed package. Once again Eminem takes the biggest part of the set total attractiveness (60%) despite belonging to a lower share of the set.
Last but not least, Curtain Call is the only pure Eminem release of the list, his first and only compilation album. Almost logically the biggest selling album of the pack, what strikes the most is how all his original albums generated a real value as none of them has more than 22% of the compilation overall appeal. Thus, almost all his albums get awarded a couple of million sales a piece out of the 10,9 million pie.