Streaming Sales
Below table lists Spotify streaming of all songs from the five albums we are studying. The Comprehensive Streaming is reached by multiplying Spotify figures by 68/26. In fact, as shown in IFPI 2015 Report, there were 68 million paying subscribers to all streaming platforms by the end of 2015. While the exact count of Spotify paying subscribers by the end of 2015 is unknown, that figure reached 20 million in June 2015 and 30 million in March 2016, thus an estimated 26 million is used as of the end of 2015.
The equivalent album sales is the division of the comprehensive streaming figure by 1500 as it is now the norm in the new industry model.
Streaming Part 1 – Bleach & Nevermind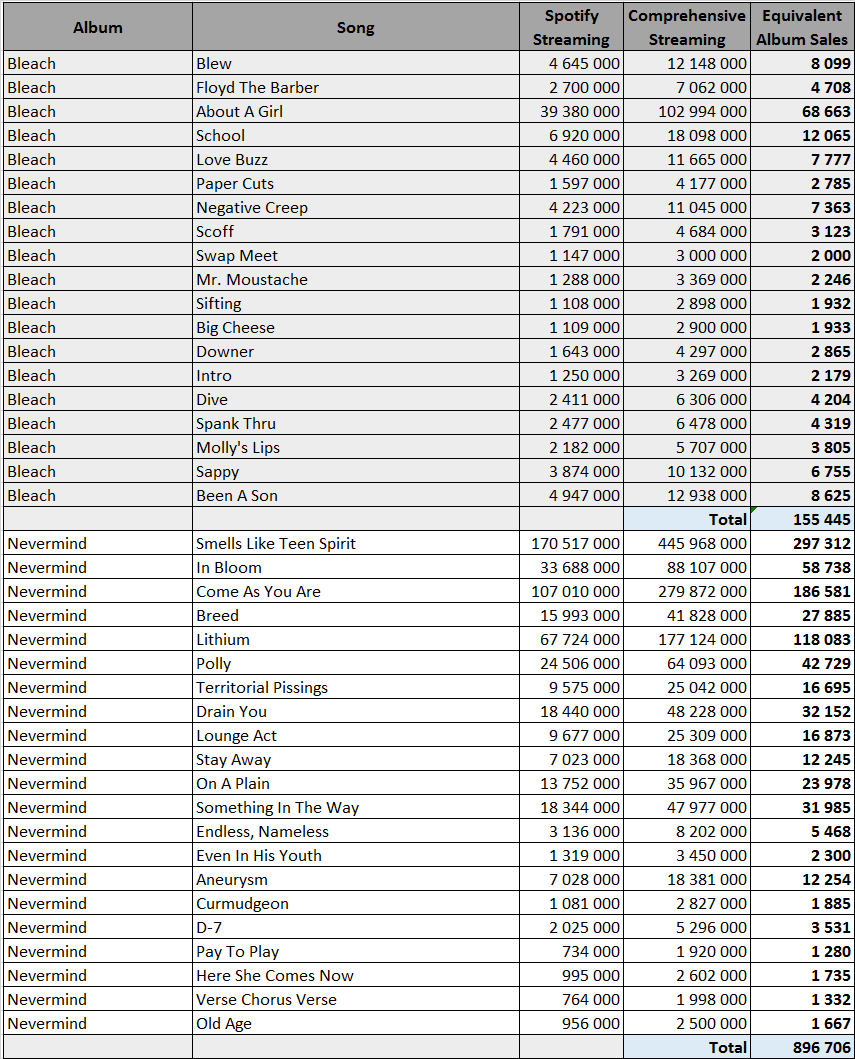 As incredible as it may seem, even tracks like About A Girl or In Bloom are higher than anything Madonna released prior streaming years. This fact highlights how strong Nirvana discography is in Spotify platform. The song Smells Like Teen Spirit is the third biggest pre-2000 song overall, a terrific achievement. Come As You Are cracks 100 million easily too while Lithium and In Bloom are up there combined.
I added all tracks from expanded editions into those albums. If we focus on original track listing, the one of Nevermind stops at Something In The Way, meaning every song from the album got streamed at least 7 million times.
In terms of sales equivalent, Bleach streams equal to 155,000 units sold, while Nevermind has a monster result of nearly 900,000 copies.