Streaming Sales
Below table lists Spotify streaming of all songs from the five albums we are studying. The Comprehensive Streaming is reached by multiplying Spotify figures by 68/26. In fact, as shown in IFPI 2015 Report, there were 68 million paying subscribers to all streaming platforms by the end of 2015. While the exact count of Spotify paying subscribers by the end of 2015 is unknown, that figure reached 20 million in June 2015 and 30 million in March 2016, thus an estimated 26 million is used as of the end of 2015.
The equivalent album sales is the division of the comprehensive streaming figure by 1500 as it is now the norm in the new industry model.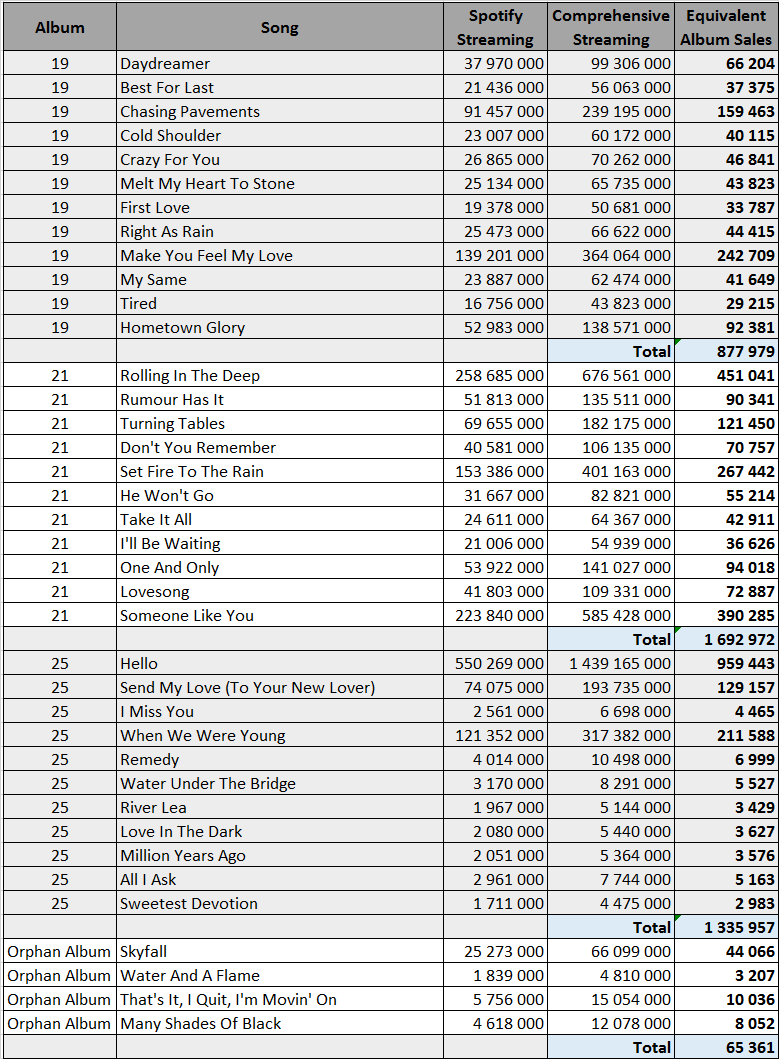 Streaming results for Adele may not look as impressive as her albums and singles sales. The reason is quite obvious as each 21, Skyfall and 25 got streaming availability delayed to make room for sales while the hype was high.
In fact, 21 albums got introduced into Spotify in late June 2012, nearly one year and a half after its release. Still, the enduring appeal of this record accumulated nearly 1,7 million album sales equivalent thanks to songs like Rolling In The Deep (259 million) and Someone Like You (224 million) remaining everyone favorites. What's more, even album tracks all crushed over the 20 million mark, an absolutely insane result.
Maybe even more impressive is 19. This album doesn't contain hits as huge as 21 but still each and every song from its track list is on 17 million and more.
As for 25 songs, the three singles got added into streaming platforms when they were released as singles, while album tracks got introduced a mere three weeks ago, which is why they all have relatively low numbers. Obviously, Hello score is absolutely massive, representing nearly 1 million albums equivalent alone.