Streaming Sales
Below table lists Spotify streaming of all songs from the five albums we are studying. The Comprehensive Streaming is reached by multiplying Spotify figures by 68/26. In fact, as shown in IFPI 2015 Report, there were 68 million paying subscribers to all streaming platforms by the end of 2015. While the exact count of Spotify paying subscribers by the end of 2015 is unknown, that figure reached 20 million in June 2015 and 30 million in March 2016, thus an estimated 26 million is used as of the end of 2015.
The equivalent album sales is the division of the comprehensive streaming figure by 1500 as it is now the norm in the new industry model.
Streaming Part 1 – Early Years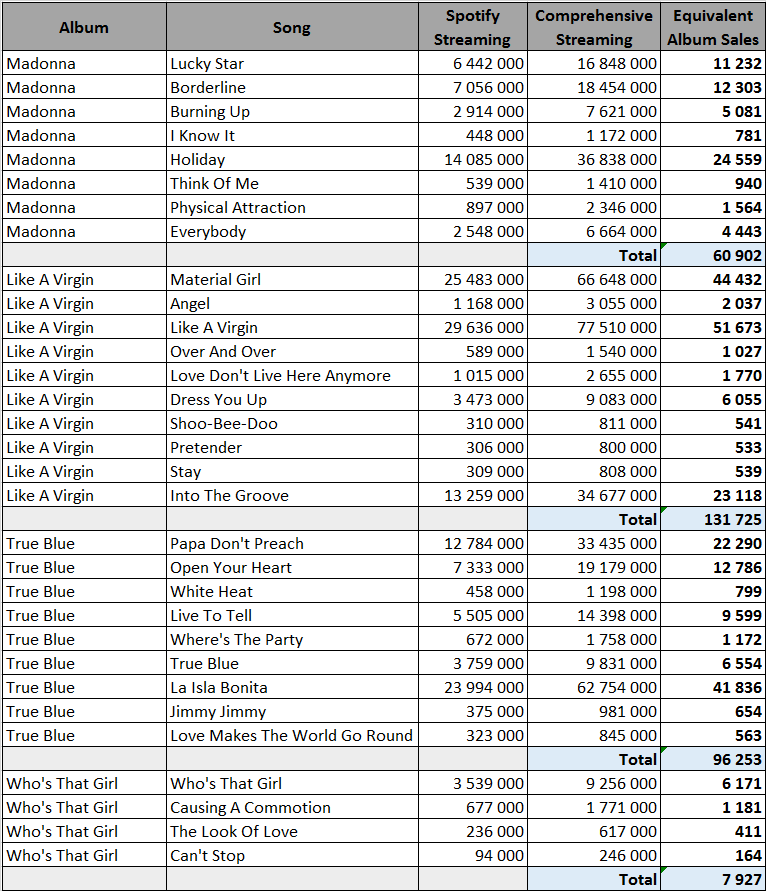 Let's be honest, those figures are not record breaking. Madonna highest song in streaming Spotify figures from her first four albums is Like A Virgin which is under 30 million. The five singles extracted from True Blue add for 53 million – nothing to be ashamed of but also nowhere near the 318 million combined of the main three tracks of its contemporary challenger Appetite For Destruction by Guns N' Roses.
Still, the main strength of Madonna has never been one or two songs but an extensive catalog of hits instead. Thus, the almost 300,000 albums equivalent generated by those songs streams, which are already quite decent, are only a first batch of streaming results out of six.